Japhin. (Kyiv)
I am impressed. -An entry from my last week's trip.
At 7:30 Me, Marie, Dmitriy, and Dasha sat down to eat breakfast with a wonderful pastor named Stas in #mykolaiv; this happens to be the next city from Kherson (which is occupied by the Russians). So, things are pretty hot there. It is the most if not one of the most targeted cities.
As we were enjoying our scrambled eggs and coffee, we heard loud blasts. We knew the Russian Missiles had hit the city. We all took our phones to see where they hit. We knew it was close by but wanted to know.
I wanted to see how the Pastor, a resident of that city, responded. He was sad, but he did not care to know what and where it hit. This kind and Godly man knew, regardless of where it hit, it would be destruction and death of his
fellow brothers, who stayed back in the city.
We finished breakfast and headed out. We were going to serve somewhere closer to the University that was hit.
What impressed me was that it was only one hour had passed, but by the time we got there, people were already cleaning the rubble and sweeping the streets clean. I understand firefighters and police officers being on the ground, but what is the necessity of cleaning the trash and sweeping the roads the next hour after the explosion?
This is not the only incident. During our first night in Mykolaiv, a hotel was hit. A few hours later, when we went there, everything was back to normal except for the big hole in the building. All the rubble was cleared.
A few days ago, someone who was visiting Kyiv asked, "Why is there no destruction in Kyiv?". It made me think, Yes, it is true; Kyiv looks as glorious as ever except for some odd checkpoints. The reason is that the leaders do not want people to see all these destructions way too much and lose hearts.
When we went to Irpin, Borodayanka, there were many tanks, cars, and vehicles on the highway. A couple of days later, everything was cleaned.
The highway was blocked as the walk-over bridge was destroyed; a few weeks later, it looked as if nothing had happened there. Bridges were destroyed; in a couple of days, temporary bridges were made, and a new bridge was constructed in a couple of weeks.
Because of Shelling, the national highway was filled with potholes. Ten days later, now they are as suitable as a racing track.
I can go on and on and on.
Many would think and say, why reconstruct now during the active war? Total waste of US, UK, EU aid and what not.
Ukraine's situation is different from other war zones. In Ukraine, people don't want to leave the nation or plan to live outside Ukraine forever (most). This is home for them; you treat missiles and sandstorms the same way. You wipe everything clean and move on with life.
There is a time to mourn; there is a time to grieve. But now, the nation needs every single man and woman to be vigilant and filled with hope. Hope even when your fields are burning, hope even when your husband dies, hope when a million dollars worth of missile brought down the only store in the whole village.
Missiles are powerful, but there is something more powerful: love, hope and faith.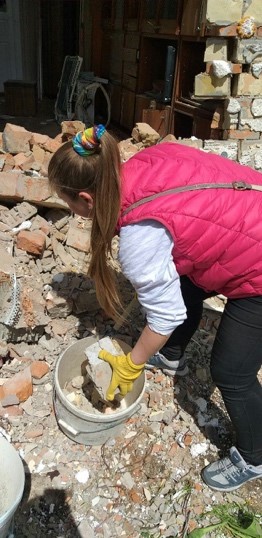 Al Akimoff and the Slavic Ministries Team