Anya (Kiyv)
Can you join me in prayer for Chernigiv, city North from Kyiv!!!
It has been under attack the past week and now another bridge has been bombed. It might turn into the Mariupol Tragedy !!!
Yulia (Kiyv)
This is a post of gratefulness to some of the amazing partners we work with. We will not name each one by name, but just know that we would not be able to do it without you. Every day we go out and are able to help people because of many people who are standing with us and helping in so many ways. THANK YOU!
Day 28:
Today we fed 200 people
Rescued 50 people
Delivered 58 food boxes
Delivered 7 boxes of medical supplies to a hospital
And we are ready for tomorrow)
I turned my Instagram account in some kind of statistic book. But those are not just numbers for me. These are real people who have experienced God's touch through loving hug, personal conversation, prayer, food bag etc. We have so many ways to tell and show people around us who God is.
Ternopil
Blessed the one who gives! We received so important humanitarian goods this week. One truck sent from Heinichen community. Another truck was organized from Switzerland from Madiswil community. Thank you for care and help for Ukraine in these days!!!
Border Teams
Many people are arriving at the borders and to the number of ywam centers surrounding Ukraine. There is so much serving and ministry being poured out to the now over 3 million refugees who have left the country. Volunteers who speak Ukrainian and Russian are especially needed in all of these places.
If you are planning on sending teams to help in or around serving refugees from Ukraine…. PLEASE be in touch with our teams before you travel, and also keep in communication. If your plans change, keep in touch with your contact. Your main teams and volunteers contact is at: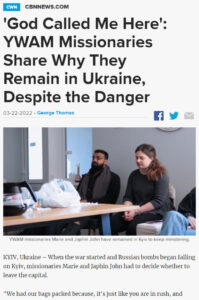 CBN Network produced a very good presentation of YWAM in Kiyv. Because of security concerns it needed to be edited. An earlier unedited version has gone out and has been spread on social media. Please do not share that version. This one has been edited and is alright to share. Thank You…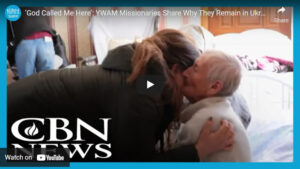 Al Akimoff and the Slavic Ministries Team