Anya (Kyiv)
Kharkiv, Donetsk, Lughansk, Mariupil, and the smaller towns and villages!! It has started!!
Please stand and pray for the East of Ukraine.
There is only one rule to this war for the Russian army: "if we can't have it, we will destroy it."
He makes wars cease to the ends of the earth. He breaks the bow and shatters the spear; he burns the shields with fire."
‭‭Psalms‬ ‭46:9‬ ‭NIV‬‬‬‬‬‬‬‬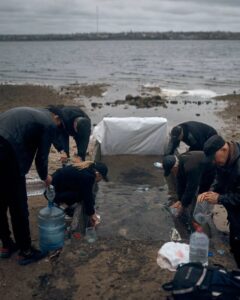 Olga (Kyiv)·
In 54 days of full-scale war, Russia damaged Ukrainian infrastructure by 85 billion dollars
The total amount of Ukraine's infrastructure damage has reached $ 84.8 billion, but the total loss reaches $ 600 billion. Over the last week, direct losses of Ukraine's economy due to the destruction and damage of civilian and military infrastructure increased by $ 4.45 billion.
There is no water in Mykolaiv for about a month. People are collecting rain water from puddles, from rinsing and pain… (See photo)
Ukraine is my home.
The city of Mykolaev has been totally destroyed. A group of Ukrainian soldiers and some citizens have been trapped in a steel plant. They have been given 5 hours to surrender. They did not, so they are now under attack. Please Pray!
Sasha
Project "BREAD"
Sasha had to flee from Crimea in 2014, He now lives in the U.S. but returned to help his former staff mates in Ternopil He started a project while there. He personally covered the cost to begin this project. We have a unique opportunity to participate in this project.. He shares the project here:
$1000 FOR 3 TONS of FLOUR
Flour is produced at a mill in Ternopil, and then sent to the eastern part of Ukraine, the city of Chernihiv, for baking bread and free distribution to all those in need! We can participate in this process as long as there are grain reserves. In a private message I can give more details for those who want to help. The photo below shows flour that has already reached its destination. This is a drop in the ocean, but we become part of the flow of love and care for those in need! Next week for Orthodox Easter, the bakery will bake and distribute decorated Slavic Easter bread as a celebration of Easter.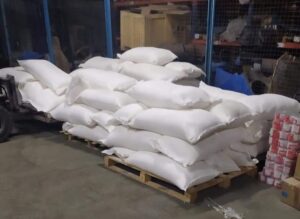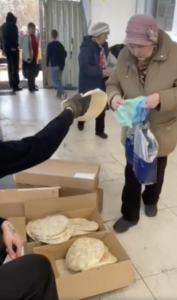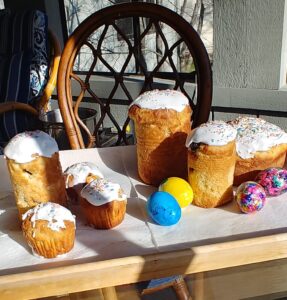 This is an urgent time to increase our prayer as the Russian Army is mounting a huge force on the Eastern border. Much has been done this past week in evacuating many women and children especially from this area. This next week, many bombs are expected to fall on this region. Today, even Lviv saw bombs fall and seven people died. Pray that lives will be spared.
Al Akimoff and the Slavic Ministries Team