MAKSIM (KYIV)
Back on the road to reach new villages and lonely people!
Together with the Youth with a Mission Kyiv team, we went to the Ivankovsky district closer to the Chernobyl zone in order to tell people about God's love and congratulate them on Easter.
Our team was able to distribute 200 food bags to poor and lonely people. During the trip, we visited 6 villages, a nursing home where there were 30 single women, a rehabilitation center and large families.
Visiting villages and entering houses, we met various people who told about their experiences during the invasion of Russian soldiers.
Their stories make us cry, and their houses testify to the aggression of Russian invaders. The house where grandmother and grandfather live was destroyed by the blast and the roof of their house was torn off, and the fragments from the shells destroyed the ceiling, and when it rains, they get wet.
They are unable to repair this house with their resources and rely on God and the help of other people who can come to make a roof and walls or help financially.
It is very painful to look into the eyes of people who have no houses and property left, these grandmothers are forced to live in the basement (cellar) of their house in their old age and ask for help in food and the construction of their houses.
One Grandmother, who is 88 years old, said that she was born during the war, when German soldiers came, they stroked the heads of small children and gave them sweets, and today the soldiers came and they are worse than the Germans, they broke into houses and robbed everyone, mocking and killing people and children …
There were tears in the eyes of this grandmother, we prayed that God would console her kind heart. Many people in villages do not have the opportunity to buy food, medicine, diapers. Every grocery bag we gave was a special gift for them.
Thank you Youth with a Mission Kyiv and Yulia Kens for your support in God's work. Our trip was very long and hard.
While distributing food to people, we prayed that God would give them hope that their houses would be rebuilt and God's peace would come to Ukraine!
Looking back, I see that it was a good time of service, we were able to help those who really needed food, medicine, tools, gasoline.
I want to say more thanks to God for every person who prays and supports God's work.
Leaders in Ukraine
"Please pray for our vehicles. After 2 months of rough driving, there is a lot of repairs that need to be done. So we had another van that broke down on the way into Kyiv. Please pray for more vehicles and finances for the repairs. Please pray for safety for our drivers, we need vans and cars to be reliable and our people to be safe and not be stuck in dangerous places."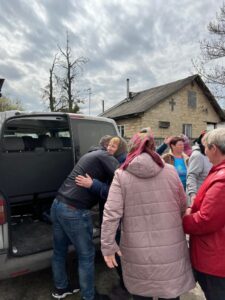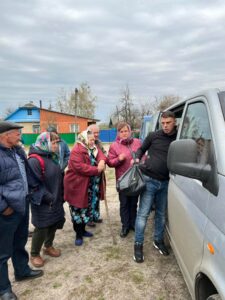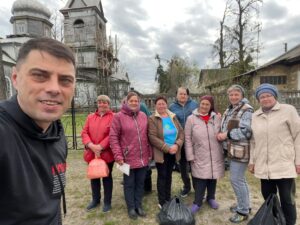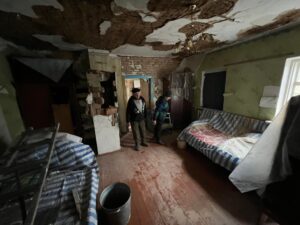 As the war continues the biggest request these days from the Ukainians is that they not be forgotten. Please continue to hold them up in your prayers.
We will continue to let you know of the needs and praise reports coming from inside Ukraine and the border areas but we will not be doing this on a daily basis.
We will be sharing three or four days a week. This will allow us to give you more indepth reports.
Al Akimoff and the Slavic Ministries Team