Day 92 Thoughts from Ira/Kyiv
As the fighting in the East of Ukraine intensifies, we need your prayer. The next few days (or weeks) are going to be tough. Belarus is conducting "military training" within 60 kilometers (40 miles) of the Ukrainian border. There is evidence of Russia accumulating troops in the Belgorod and Voronezh regions, which may mean renewed attacks on Kharkiv (and possibly Sumy) region. They have set up missile launchers in various locations along the border, so we expect many missile attacks. They will primarily aim at railroad stations and important infrastructure objects to prevent the supply of ammunition. Still, since we've seen their lack of precision in the past, anything can become a target. Please, pray for divine protection!
Pray for the temporarily occupied territories. There is a flood danger in Kherson region. The hydropower station in Kakhovka needs repair, but the occupational forces do not allow it. There is already some flooding, but many villages may end up underwater if the situation gets worse. My heart breaks for Kherson region – my grandparents were participating in the construction of the hydropower station in Kakhovka, and my parents spent their first years of marriage (and my first year of life) in a village that is just a few kilometers down the river from Kakhovka. And these are just a few personal connections that we have, but our friends have family members there.
The situation in occupied Mariupol is very sad. The city may be on the verge of a cholera outbreak because of a lack of sanitary conditions. People still don't have electricity or running water, but the first thing the occupational forces did was set up giant screens to broadcast Russian propaganda. They announced that there would be no summer break for schools in the occupied Mariupol so that the children could "catch up on Russian language and history" (a.k.a. intense brainwashing). At the same time, the occupational government in Crimea suggested removing the English language from the school curriculum, explaining that it's dangerous (it may get a child interested in other countries) and useless to people who will never go to London. At least they admit they are afraid of open-minded people.
Today's picture is from a world hockey championship that's taking place in Finland. The game was between the Czech Republic and Latvia teams, so the organizers wouldn't allow any other flags to be displayed there. The creative Czech fans came up with a solution. On their national flags, they wrote a famous slogan from the days of the Soviet invasion of Czechoslovakia in 1968, "Ivan, go home; your Natasha is waiting for you." They put up a poster that asks you to imagine a Ukrainian flag in the middle. Thankfully, the countries that underwent Soviet oppression understand the actual danger of the Russian invasion and have the courage to speak up.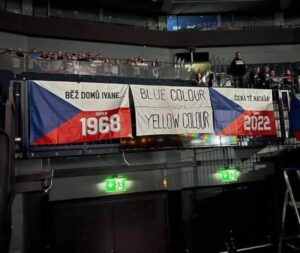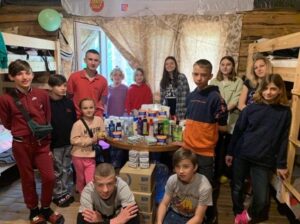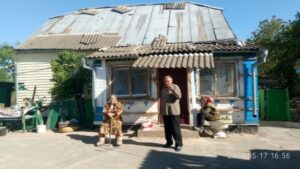 Teams continue to minister to towns and villages, the need remains great. Please pray for them as they travel far afield every day.
Thank you for praying and giving,
Al Akimoff and the Slavic Ministries Team