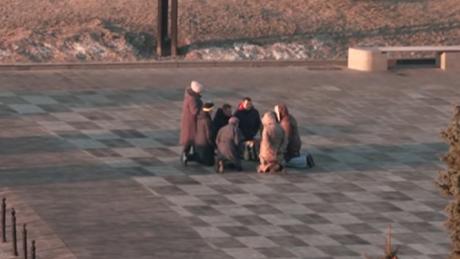 What is happening? The whole world is watching and wondering what is happening in Ukraine. After five days of battle, it seems that something unusual is taking place. News commentators are saying "It's not going as expected."
According to one Y leader from our Western Ukraine center, reports are coming in from all across the country reporting miracle after miracle. One pastor reported that missiles are sticking up in the ground – unexploded! Russian military vehicles are running out of fuel! Russian soldiers are confused and asking directions from local Ukrainians!
Maybe the bigger miracle is what is happening in Russia itself. There is huge antiwar movement that is spreading across the nation! Would you pray for our Y family in Russia? They want the worldwide Y family to know that they are not in favor of Russia's invasion of Ukraine, and they do not want to be looked on as enemies. Thousands of anti-war protesters have been arrested in 26 different cities across Russia and the movement is growing. This includes many famous sports people, actors and actresses and even politicians. This could have an incredible impact in turning the tide. Please pray!
The same is true of our Belarus Y family. Their country has just come out of months of protest and was then propelled straight into this conflict. You need to know that Y Belarus is one of the most innovative, creative groups we have in our Y family. They are hurting in the midst of this and they need our prayers.
Our Y Kyiv leaders report that the situation was very difficult in the city last night but they came out of it this morning victorious and safe.
The Y Ternopil leaders report that their premises are crammed full of refugees and it's a challenge to feed and house them all – but they are experiencing an amazing sense of unity, with volunteers coming to help. Ternopil is expecting 6,000 more refugees on March 1st. And Y Ternopil is packing a truck with food to deliver to the Y Kyiv center.
The lines of refugees at the borders are kilometers long, taking people two or three days to get cross. The throngs are made up of mostly women with their children, since men 18-60 are not allowed to leave the Ukraine. The situation is difficult with no food or no sanitation conditions set up. Once they get across to the other side of the borders, it is also challenging, with over a half million people that have already crossed and the possibility of three or four million more expected to cross in the next days.
Our Y centers in Poland, Romania, Czech Republic, Slovakia and Hungary are mobilizing their staff and students to meet people at the borders. They have set up their centers to host the families that are coming. They are welcoming the refugees joyfully, with open arms.
When asked what the spirit is like at the center in Ternopil, one of the leaders said "It's Invigorating…full of life…victorious!"
Can we pray for that life-giving, victorious spirit to continue at the Ternopil center and all of our Y locations across the Ukraine? Let it spread to everyone they touch and minister to.
Let's pray for our Russian Y family. May God minister to their souls. Let them be a light to their nation in this time of darkness.
Pray for the thousands waiting at the borders – for grace, for quick passage, and for warm welcomes on the other side.
And pray for the many husbands and fathers left behind to defend Ukraine.
Today will be a very trying day for Kyiv, Pray for God's Mercy on the city.
Love in Jesus,
Al Akimoff and the Slavic Ministries Team