Ira (Kyiv)
Salvation belongs to the Lord;
your blessing be on your people!
Psalm 3:8
Every day I remind myself that salvation and victory belong to the Lord. I know that He's already received victory on the cross. I know that even though it may seem to some that God is only passively waiting out this war, but in fact, He (once again!) has done the impossible. All military experts expected Ukraine to fall in a couple of days, but we keep resisting.
Kherson region especially needs our prayers. It looks like the Ukrainian army is advancing there, cutting all connections of the Russian forces, especially because the Dnipro river goes through the region. It would take destroying a few bridges to have the invaders surrounded. Please, pray for the protection of those remaining in the active war zone and for our military success there. Our people are waiting to be liberated.
Please, pray for the cities and regions that have become the usual targets for the Russian missiles and artillery – Mykolaiv, Kharkiv, and Odesa regions. Almost every morning, in the wee hours when most people are asleep, the enemy strikes. Please, pray for God's deliverance and justice.
Today's picture shows a prayer request in one of Kharkiv's churches. It says, "Hello God! Save Kharkiv. I'm Simon, 8 years old."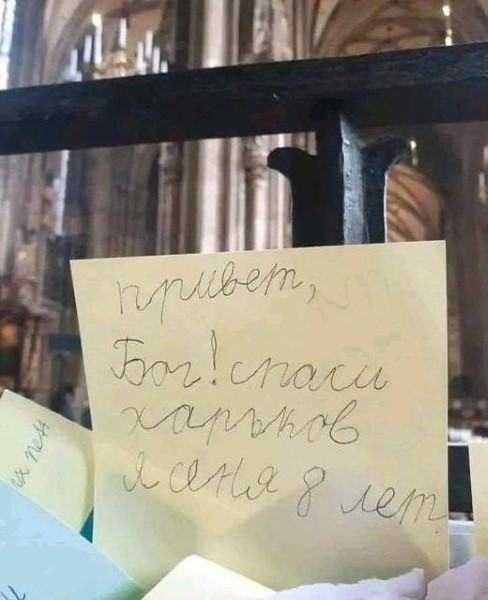 Al Akimoff and the Slavic Ministries Team