Marie John(Kyiv)
This week felt like the foretaste of a new season.
Throughout six months of war, I prayed Ukraine would once again be a place people would come to visit from afar, instead of leaving it.
This week, pallets of humanitarian aid were moved aside to make space for 70 young Ukrainians, who were trained as evangelists on our campus and are now launched to spread the good news of the kingdom all over Ukraine.
We welcomed 40+ international volunteers, partnering with us in the great effort of rebuilding in the Kyiv region.
Ukraine is a hospitable nation. It still hurts that visitors have to see ruins and burnt-out Russian equipment, rather than just taking a stroll in Kyiv's lively old town, admiring 1,000 years old golden-domed churches.
But Ukraine has different things to show to the world in this season. Stories of courage and resistance in the midst of war. Sparks of hope when the world gave up on us. Maybe these are things worth traveling far to see.
May Ukraine get the chance to show the world all it has to give, after having to ask for so many things.
May Ukrainians be known as heroes, and no longer as victims.
As long as we are still awaiting that reality, we chose to open our eyes to the hidden sparks of a new reality. People opening their hearts to the Gospel message as we are extending our hands to help. Encounters with God as churches are turned into shelters. Realizing that freedom and dignity come at a price.
Would we not overlook the One who is walking with us all this time. The Living One is not to be sought among the dead. Where He is, is the abundance of life. And we recognize His presence once our hearts start burning within us.
Gospel of Luke 24:34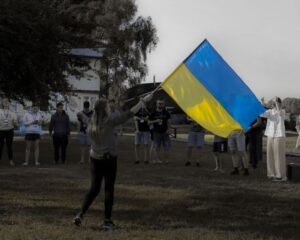 Thank you for your prayers for all these wonderful teams coming to Ukraine to share the gospel, to build and to feed the hungry.
Al Akimoff and the Slavic Ministries Team