Once again from Marie, In Kyiv:
Imagine every second person in your town would leave.
In your own household: Imagine seeing half your family leave. Kids and parents would leave, grandparents would stay. In your neighborhood: Those who are well-to-do would leave first. Those who know a foreign language, have a business, a good education. Try to picture who would stay back. In Ukraine, it's the old generation. The lonely grandma who grew up during WWII and the Soviet Union. Not yielding to one more dictator trying to take control of her life. Others take their family members in. Their sons' jobs are gone, businesses say, "We are no charity organization, we can't pay if there's no work". So grandma's pension suddenly becomes the only source of income for many families. Just to give a figure; an average pension in Ukraine is around 90$. In the meantime, due to food insecurity, prices have risen up to 50%. We bought tea for 4$ per package yesterday. You need a lot of imagination to picture a family living on their grandma's pension these days.
So our phone does not stop ringing. Today, we were called to an apartment building to deliver 15 food boxes. It felt completely abandoned. People would not open the doors. We could hear the white noise of the television inside. But they would open only once we called on the phone. They are afraid to open the door. Too many reports about Russians infiltrating, looting, and violating residential areas. They are afraid to go out. Too much noise in the sky. So they just sit inside and wait for some kind of salvation. ALL of them pray. You can tell most of them are not religious people. But now, everybody prays. They say, "We have no hope besides God".
Every second person left Kyiv. 2 Million. More than the city of Philadelphia or Hamburg. You see it in the empty balconies by day. You see it in the dark windows at night. You see empty parking lots. Closed shops. Abandoned construction sites. Abandoned grandparents. It feels like exile. It resembles Israel's exile in Babylon, with only the poorest people of the land left (2 Kings 24:14).
I look around my city and think; maybe this is how it always goes. But God always leaves a remnant. Those who were left, the poorest of the land, were the ones ingathered first. Remember how Jesus did not start His ministry with the religious elite in Jerusalem, but how His first journey led Him to the remnant. Those left behind. Despised during Jesus' time. But He saw something different: "Galilee of the Gentiles—the people living in darkness have seen a great light; on those living in the land of the shadow of death a light has dawned" (Matthew 4:15).
This is what keeps me hopeful for Ukraine today. Not a shallow hope in the power of arms or allies. Not a hope in political or national ideas. But hope in my God who does not put to shame those who trust in Him. The last man standing in Jerusalem was Jeremiah. As the city was under siege, God asked him to do a crazy thing. He asked him to purchase a plot of land. I often thought about this during the last few days when seeing all the abandoned houses and neighborhoods resembling ghost towns. People just want to leave. It would be the craziest thing to purchase a house now. Everything seems to be doomed for destruction. And as if we are just waiting for the verdict to be carried out. As missionaries, Japhin and I never wanted to have a house or settle down too much. But these days something in our hearts sparks with excitement when we think about Jeremiah's plot of land. It was more a prophetic act than a purchase. Then the word of the Lord came to Jeremiah: "I am the Lord, the God of all mankind. Is anything too hard for me? (Jeremiah 32:26)
We believe in the same God. I pray that all of us would have a portion of Jeremiah's faith. Of building houses and purchasing land in a war zone. Knowing the hope it will bring and the faith it shows to the world far exceeds the price we paid.
If we had some savings, I would actually go and buy a small house in the neighborhood nearby. Just to show that I have hope. For this nation, for the people, and for God's kingdom.
Great news! The orphans from Pastor Gennadiy's ministry in Mariupol have made it out of Ukraine! A huge thanks to all who have prayed and given. They are now en route to Germany, where a safe place waits for them. These kids will not be able to go "home" to Mariupol anytime soon, if ever. War is always hardest on the children.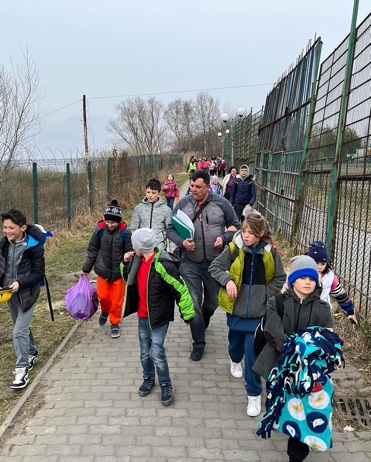 Al Akimoff and the Slavic Ministries Team