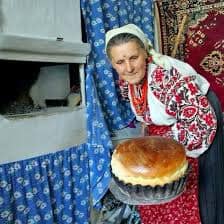 Anya (Kyiv)
Христос Воскрес!!
Christ is Risen!!
This is an Easter weekend for Ukraine, for the orthodox Christians. Growing up this weekend was very special for our family. We all got together at my grandmother's house to wait for Sunday. My grandma always baked Easter Bread (Paska) and other baked goods, baked seasoned meat in the wood oven, colored eggs, fresh horseradish and other good food. But what I remembered the most is that we were not allowed to make noise, no fighting between the cousins, no loud screams, no loud laughter, not even running or slamming the doors. It was a holy weekend as the dough was rising and it was very sensitive to sudden sounds. I remember asking my grandma to eat the bread as it is right out of the wood oven fresh and warm, but oh no, not allowed, not until we see the sun rise on Sunday. We all got up at 3 in the morning and went to church, only than we were allowed to finally enjoy ourselves and enjoy the delicious food. We would go around to all our neighbors and other elderly people around our village taking baked goods. No one should be alone or hungry on this day.
Today I am baking the Easter bread. No one is at home, so it is SILENT. As I make the repeating rituals with the bread all you can hear is my SILENT PRAYER with my silent tears. Rise up, oh Lord, in Ukraine! Rise up, oh Lord, for Ukraine! Rise up, oh Lord,with Ukraine! Could we see the sun rise this Sunday! You are suffering with us and you will raise us up!
Our president asked if Russia would give a weekend of holy silence, but it is far from being silent in Ukraine. Today new city was attacked, a beautiful city of Odessa, air strikes, bombs, victims, destructions.
Three days ago Russian minister of defense declared new plans for Russian invasion: land path to Crimea through the east of Ukraine and land path to Transnister-Moldova through the South of Ukraine! It is official – the plans of the enemy!!!
Pray with us for no success for the aggressor and for peace and freedom for Ukraine as it is defending the land path to Europe.
"When you go into battle in your own land against an enemy who is oppressing you, SOUND A BLAST ON THE TRUMPETS. Then you will be remembered by the Lord your God and rescued from your enemies."
Воістину Воскрес!!
Have a Blessed Easter!
Al Akimoff and the Slavic Ministries Team