PRAYER OF THE PRESIDENT OF UKRAINE
God, the great, the only one, protect Ukraine.
Protect those who protect us and defend our motherland. Strengthen the will of those who protect us from captivity. Help those who help them. Give strength to those who give their all.
Let everyone who seeks – will always find. May everyone who is on the way now, always overcome it. May anyone who does their best to save never lose faith that all things are possible. Save the lives of those who save the lives of others. May life win the battle of death everyday.
Take care of our mothers and give strength to those waiting for a son or daughter from the war. Give resilience to those who did not wait for their child from the front. Help overcome the unbearable pain of those who lost their native child in the cities and villages where Russia brought death.
Give strength and stability to our parents to wait for peace and victory and return of their own. Let them see how our land will be liberated and restored, and give us the strength to do so.
Take care of all our children and give each of them a happy youth, youth, maturity and old age.
You know we have not destroyed other nations, so don't let us be destroyed. Save Ukraine. Her right and left bank when we are beaten right and left cheek.
We believe that during Your judgment you will not forget and condemn all those who have forgotten Your commandments. Don't forget about Buchu, Irpin, Gostomel, Borodianku, Chernihiv, Mykolaiv, Kharkiv, Kramatorska, Mariupol and Kiev.
Let all the people living in other cities and hear frightening explosions hear the victory salute.
You carry us through difficult trials and give us on this way to reach a fair end – to the beginning of a happy life and prosperity of Ukraine, physical and spiritual.
You see our hearts are often filled with pain and anger, filled with hatred for fishponds and everything they care about. Don't let these feelings destroy us from the inside. May anger be turned into our good deeds and power to overcome the forces of evil.
Save us from discord and divisions. Let us not lose our unity. Strengthen our will and our spirit. Don't let us lose ourselves, the thirst for freedom, the passion for the righteous struggle, and also the hope for victory.
God, do not let us lose Ukraine, as well as faith.
Vladimir Zelenskyi
(short version of today's Easter greeting president)
Today was Orthodox Easter in Ukraine and all across Eastern Europe, it is a big celebration with lot's of special baking going on, all night church services and people greeting people on the streets with Christos Voskres, Christ Arose!
Pray that this will be a special Easter with people receiving the revelation that Jesus did truly raise from the dead.
Al Akimoff and the Slavic Ministries Team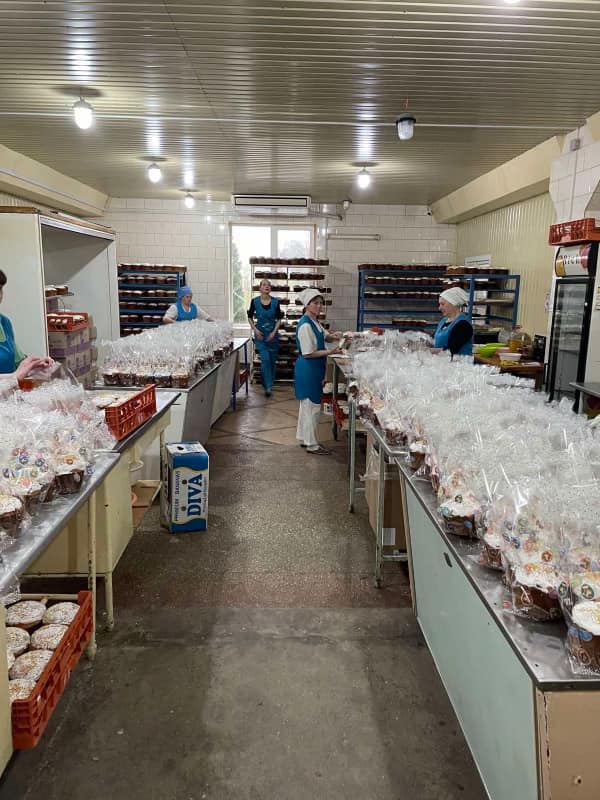 Paska, or Easter Bread being baked to hand out to people in liberated towns with donated flour.