From Rachel, one of our YWAM staff In Tijuana Mexico.
Today was a special day in the Ukrainian refugee camp in Tijuana where our YWAM team serves. It is Orthodox Easter today and we were able to do some crafts & silly games with the kids and teach them about what Resurrection Sunday means. And of course there was an Easter egg hunt. During our program many of the families had their numbers called and were moved out of the camp to cross the border to the USA. There are lots of changes happening today and even in the midst of the chaos there were lots of smiles and joy. I noticed the parents smiling even more as they watched their kids just get to be kids and have some fun.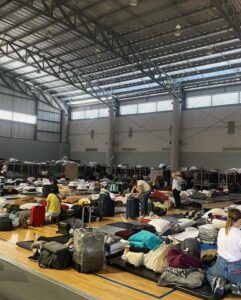 Latest areas of prayer for Ukraine
Five railway stations have come under attack in central and western Ukraine, according to officials
There are reports of casualties after stations in Zhmerynka and Kozyatyn in central Ukraine were hit
Please pray for the safety of refugees coming by train to the West. Also for our Ywam family assisting these families coming by train.
Russia has said it will suspend attacks on the Azovstal steel plant in Mariupol to allow civilians to leave – but Ukraine has demanded written security guarantees.
This is important for prayer for Ukrainians to get out safely from the steel plant. Also for our drivers as they continue to travel the dangerous roads to help mothers and the elderly to provide food and medical supplies.
Yulia
Today 476 food bags
Right now food bags is our main focus as we see a huge need in Kyiv region and trying to look farther to see if we can help in neighboring regions like Chernigov.
Every day we send out 4 vans and few smaller cars to deliver food in these two regions. Almost every day is a new village that we have never been before and more requests are coming.
Bringing food is something so simple but so crucial in this time and people are breaking in tears from seeing those bags. We are so happy to be hands and feet here and Ukraine and so blessed to have your hearts with us supporting and cheering us on through prayer and finances.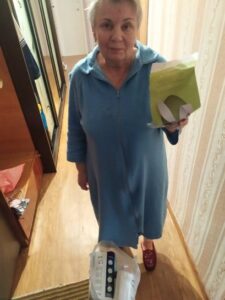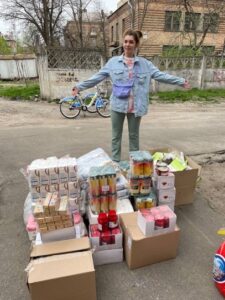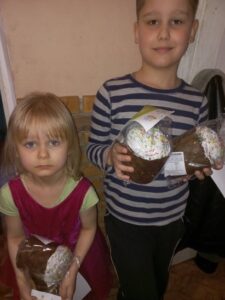 Another very troubling event took place today in Transniestria a small breakaway enclave in Moldova. The State Security building was bombed today. Russia claims it was Ukraine who bombed it. However this will give Russia the excuse to be able to move into the area where there are already Russian troops giving them the ability to move eventually on to Moldoava. Please pray…
Al Akimoff and the Slavic Ministries Team