Prayer for the residents from Secerodonetsk
Evacuees from Severodonetsk are only able to travel "towards Russia or occupied" territories in Ukraine. The healthcare situation in the eastern Ukrainian city is fragile and just a few doctors remain. The water and food situation in Severodonetsk is "critical."
Prayer for residents in Zaporizhzhia
Hundreds of residents are being held captive in Enerhodar in the Zaporizhzhia region of Ukraine, "People are electrocuted, beaten, and held for weeks and sometimes months."
120,000 residents of the city are trapped, unable to escape. Sanitary situation is becoming critical. "Garbage has not been taken out since February. Thousands of tons of garbage lie on the street, rotting. The sewer does not work. There is no water." Russian forces have "distanced themselves from the locals because they are afraid of getting infected."
Just happening now in Kremenchuk
Here are some images from the attack in Kremenchuk which left a shopping centre in flames. Two deaths have been confirmed but the number of victims is expected to rise significantly. People are purportedly trapped inside. A number of emergency services are on site trying to rescue those who were caught up in the strike. Around 1,000 people were inside at the time.
We would be grateful for your prayers over the Ukrainian people in these cities. Y teams continue to help where they can get in safely. Also pray for more volunteers to come and help in the ongoing needs.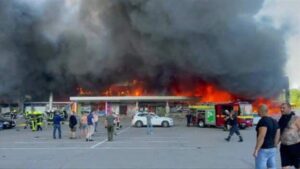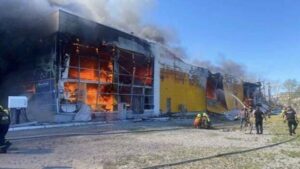 Anya (Kyiv)
Today is the beginning of the G7 meetings and also an intensive day for Kyiv.
As I am writing it the city of Odessa is being hit!!
This muscle flexing is painful for many, but also proves the evil intention of Russia's regime!
Please join us in prayer as leaders come together deciding on the respond! We need strong, wise, selfless leaders in this world.
May the Lord grant them His direction and graceful strength to do what is right!!!
May the Lord give us strength to endure this trial and mercy for the sufferings!!
May the Lord break our hearts and fill us with faith and revelation as we stand in prayerful battle!!
Al Akimoff and the Slavic Ministries Team (From Poland)