Ira Kapitanova (Kyiv)
God looks down from heaven on the children of man to see if there are any who understand, who seek after God. Psalm 53:2
Today, Russians fired 8 missiles at Kryvyi Rih, hitting hydraulic infrastructure (the Inhulets river dam) and attempting to flood the city. They must have chosen the city because it is the hometown of our President, so they view it as some sort of revenge. Just another day of terrorist attacks.
Since September 6, our troops have liberated 388 towns and villages in the Kharkiv region. That's about 150,000 people.
Medical volunteers Tata Kepler and Natalia Leliukh share the stories from the newly liberated villages around Balakliya and Izum.
– "They told us you would shoot us when you come."
– "For what reason?"
– "For living under occupation, for not being able to leave, for taking bread from them…"
– "Come, let me hug you. I promise you not to shoot. They lied to you…"
– (Conversation with the people who lived without electricity, phone connection, and information since early spring and knew nothing about Bucha, Mariupol, and everything else)
People were forced to work for food – clearing up debris for 4 cans of meat per month. There was no way to leave the occupied settlements – the back roads were mined, the main roads had Russian checkpoints, and the only way to escape was through the territory of Russia, but you needed to pay $500 to get to the Estonian border, and no one had this money.
– "My son is 16. He's been living in the cellar for six months, and he still refuses to come out." (tall man with gray hair)
– "Do you know what I did when our troops came? I cried! Cried from happiness. No one believed that they would come, but I believed, and they did. My wife and I slept on the floor this whole time, the windows were broken, but we put a couch in front of the window so that it would protect us from the shells, and it did."
I weep and am shaken after reading such reports, but I praise God that these people have been delivered. The pensioners from the occupied territories have already received their pensions for the past 4 months (they could not get the money because of the occupation), and postal services have already renewed their operations there. Life will return to the Kharkiv region and the rest of the temporarily occupied territories.
Today's picture – you may have already seen it, but I can't omit it. In the newly liberated Balakliya, they found "The Lord's Prayer" scribbled on the wall of a torture chamber of a Russian prison. We don't know what happened to the prisoner who wrote it, but I know that he was freer than those who kept him captive and bound.
"The Spirit of the Lord God is upon me, because the Lord has anointed me to bring good news to the poor; he has sent me to bind up the brokenhearted, to proclaim liberty to the captives, and the opening of the prison to those who are bound." Isaiah 61:1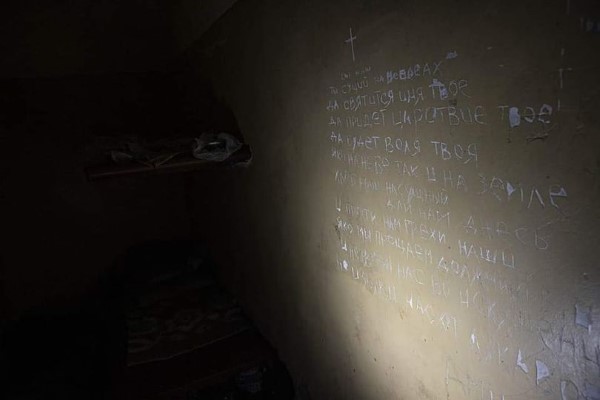 Al Akimoff and the Slavic Ministries Team